Riot Games has done it again. This time around, the talented team has released the League of Legends Teamfight Tactics mode. This auto-battler pins each of the game's famous champions against each other in a tactical battle for dominance. Of course, winning in Teamfight Tactics is no easy task. If you want a competitive edge over your enemies, then you are going to want to make sure that you are choosing the best champions. To that end, we have a produced a tier list that demonstrates which champions you should be thinking about and which ones should be left in the dust.
If you would like more information on Teamfight Tactics, check out Get Better at League of Legends' Teamfight Tactics With These Five Tips.
Tier List Descriptions
Tier S — These champions are dominantly powerful. The most popular and most powerful of their kind, these champions are almost always safe choices.
Tier A — These champions are quite strong. Not as powerful as their S tier counterparts, these champions are still popular picks and will often provide a certain edge in combat.
Tier B — These champions are average. Often neither advantageous or disadvantageous, these champions are common picks within the current meta.
Tier C — These champions are situational. While not weak, these champions often require more skill to fully utilize than many of their counterparts.
Tier D — These champions are the least popular picks. These champions are generally considered the weakest of the bunch.
There are no truly bad champions in Teamfight Tactics. That being said, this game is the recipient of consistent patches. Consequently, the meta is always changing. A champion that was once leading the pack may suddenly fall from favor following an unflattering nerf. With that in mind, you can check out how all of the champions stack up within the current meta down below.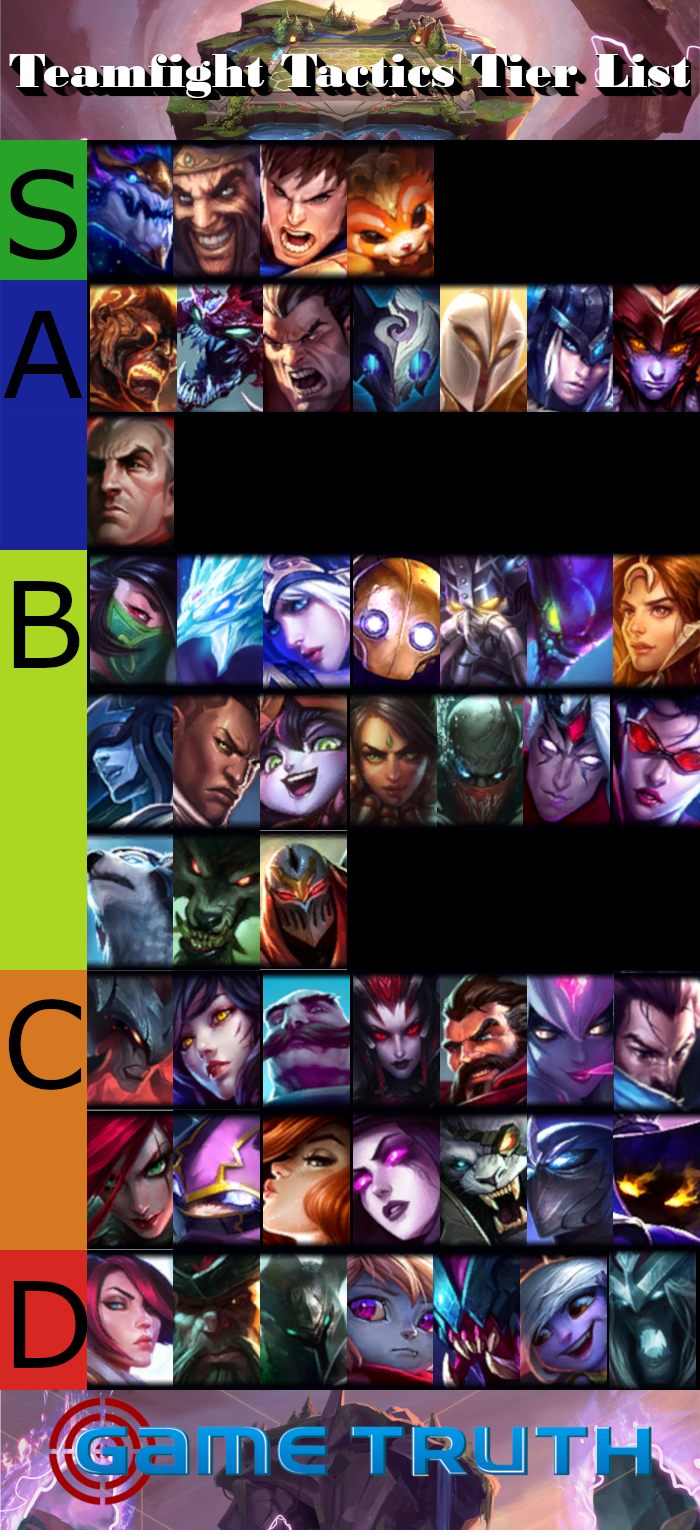 ---
This tier list was last updated to reflect the alterations made during Patch 9.15B.
---
S
Aurelion Sol
Draven
Garen
Gnar
A
Brand
Cho'Gath
Darius
Kindred
Kayle
Sejuani
Shyvana
Swain
B
Akali
Anivia
Ashe
Blitzcrank
Kassadin
Kha'Zix
Leona
Lissandra
Lucian
Lulu
Nidalee
Pyke
Varus
Vayne
Volibear
Warwick
Zed
C
Aatrox
Ahri
Braum
Elise
Graves
Evelynn
Katarina
Kennen
Miss Fortune
Morgana
Rengar
Shen
Veigar
Yasuo
D
Fiora
Gangplank
Karthus
Mordekaiser
Poppy
Rek'Sai
Tristana