GTFO claims it's a hardcore game right in the introduction and it is very, very hard. There is a lot that can instantly take out your team. The honest best advice is to either start the game as four newbies and learn as you go or have someone teach you with zero expectations of getting anywhere in the game as you aggro an entire map worth of enemies from just trying to move around.
It's currently in early access and light on content, but what is there is beautiful and nearly cruel in how hard it is. It's a steal, co-op, survival horror shooter so have fun with all of that. Remember, it's way better to win with a melee hit in stealth than to try and do anything else in this game. Without further ado, here are some tips to help explain how not to die together instantly in GTFO.
Enemy Aggro: Every enemy but the tendril one, players call the scout, starts asleep and will not aggro on you unless you make noise (i.e. shoot a gun), moving while they're glowing or shining your flashlight on them. Enemies have really good hearing. You must sneak in order to avoid them charging at you. They're more sensitive when they're glowing. If they glow red, they're about to charge you AND bring the rest of the room with them.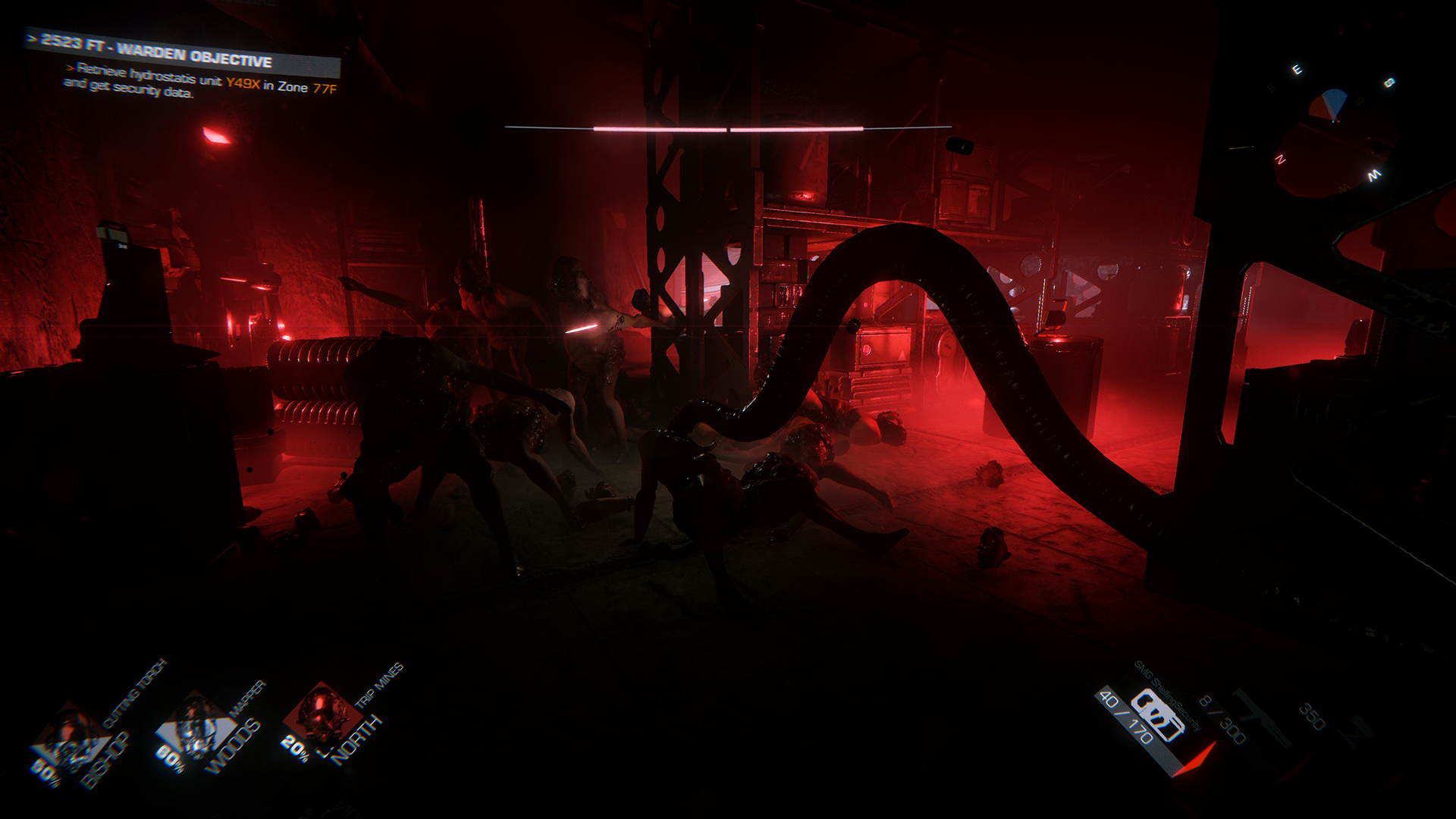 Don't touch the tendrils.
Advanced Enemy Aggro: If you alert an enemy, you have a few seconds to finish it before it alerts everything on the map.
Melee weapons all have the same damage. You can kill most enemies with a full charge melee attack to the head. You have a few seconds once you hit full charge before you auto attack.
The big versions of the enemies require four strikes. So you and your team all charge up and kill them together.
Combat shotguns nearly one hit kill most everything. Sniper rifles will one hit almost anything when you headshot them.
Gadgets are controversial. Talk it out with your team. Someone should have the tracker, but no more than one. It lets you know what enemies are awake and moving and where they're at. The c-foam launcher shoots goo that slows enemies. The mine is very useful to AOE lots of enemies, but make sure you set it where the laser will actually trigger on them. The sentry gun both the burst and shotgun will auto-fire at enemies, but will also friendly fire. You want to use the sentries and c-foam and mines together on alarm doors. It gives you extra time to disarm since you need the entire team for the security scan.
Terminals are nifty and can give you valuable info about the map and how to complete your objective. You can use "list" to list items. "list zone_#" where # is the zone number. You can add item on the end to list items in that zone. Ping lets you know where an item is.
Make sure to have your team on discord. This is a cooperative game where you need everyone working together.