Inspired by Castlevania, Bloodstained: Ritual of the Night is getting some serious attention from fans. Having just recently released, players are now diving deep into this platformer. If you are just now delving into this title, you're in luck. There's a certain cheat that will cut down your playtime if you want to leap straight into the game's tougher difficulties.
Bloodstained: Ritual of the Night offers a normal difficulty. After beating the game, however, tougher options present themselves.
You can then play the game on hard or the incredibly challenging "Nightmare" mode. As a Castlevania-like game, this difficulty is tough. That being said, it can be rewarding in its own way.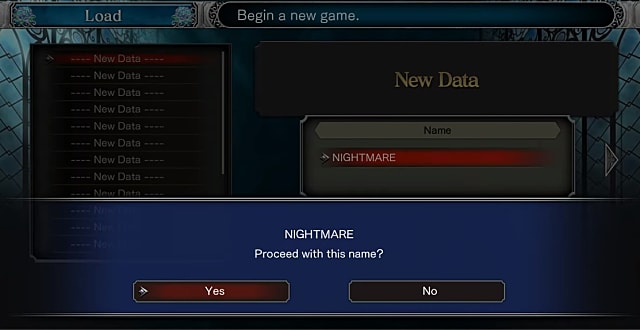 If you want to start a game on Nightmare mode without first beating the game on normal, then you only need to do a few things. First, start a new game.
Then, change the save file for your new game from "Miriam" to "NIGHTMARE." You will then need to select "Yes" to confirm the name. You will now be able to select from all of the game's difficulties when starting your first game. Of course, this is not the only file name related cheat in the game.
If you want to start the game with some better loot, there is a cheat you can use. Go back to your file name. Change it to "8MEGAPOWER." You will now start the game with a superior starting sword. There are no more confirmed file name cheat codes so far, but more may surface.
This Metroidvania game was developed by ArtPlay, DICO and WayForward Technologies. 505 Games published the title. Former Castlevania series producer Koji Igarashi was heavily involved in the making of the game, leading to the title's similarity to the Castlevania series. The game initially raised roughly $5.5 million on Kickstarter, before being published by 505 Games.