Image credit to NetherRealm Studios
Mortal Kombat 11 has a jampacked roster of fearsome fighters for fans to choose from. That being said, not all characters are created equal.
As new updates and game-changing patches are released for Mortal Kombat 11, the game's many characters fluctuate in strength and popularity among the fighting community. With that in mind, we have crafted a tier list to help you keep track of which characters are earning fatalities and which characters are being left in the proverbial dust.
First, check out our description for each tier list down below.
Tier List Descriptions
Tier S — These characters are widely popular. And, it's for good reason. You can never go wrong choosing these skilled warriors.
Tier A — These characters are strong. Though not as strong as their Tier S compatriots, these characters are still solid choices.
Tier B — These characters are average. Capable in most situations, you should be able to perform with any of these warriors.
Tier C — These characters require more skill to fully utilize. Some of these characters also underperform compared to many others on the roster.
Tier D — These characters are considered the least effective on the roster. Try to avoid these choices in favor of a higher tier character.
Mortal Kombat 11 has a well-balanced cast of characters to choose from. Consequently, you can hours upon hours of fun with any and every character this game has to offer.
That being said, some characters become more popular than others as the game's meta begins to change. With that in mind, we have developed a quick look at how the current meta for Mortal Kombat 11 stacks up. Check it out below.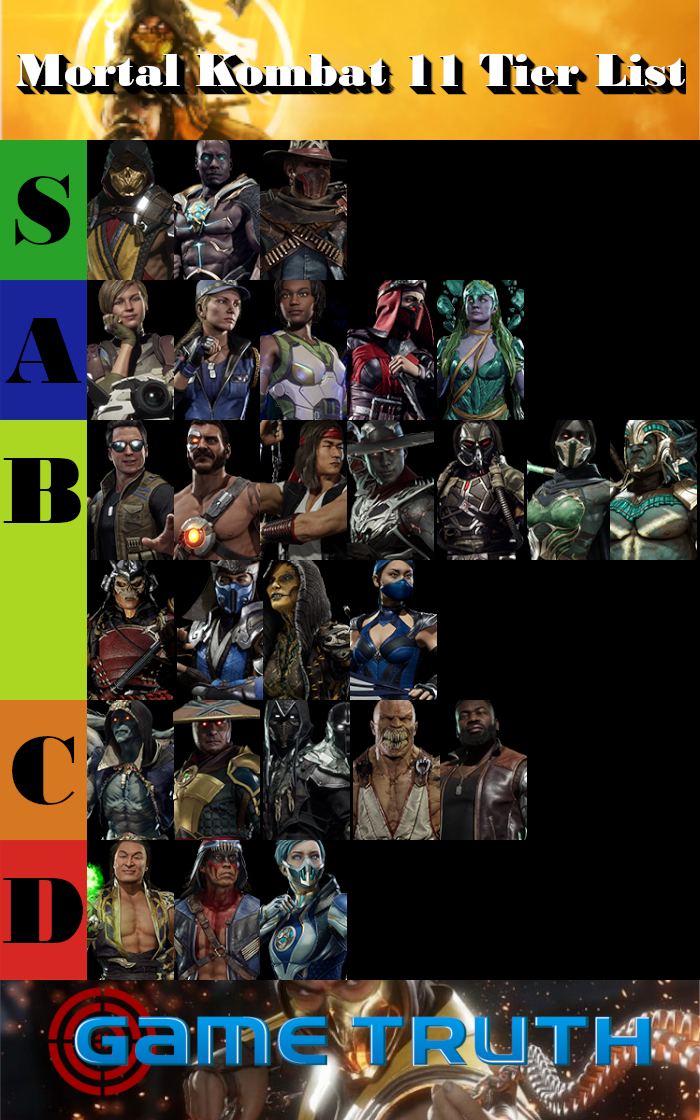 ---
This tier list was last updated to reflect changes made during patch 1.08.
---
S
A
Sonya Blade
Cassie Cage
Skarlet
Jacqui Briggs
Cetrion
B
Liu Kang
Kung Lao
Kabal
Jade
Kotal Kahn
Kano
Johnny Cage
Sub Zero
Shao Kahn
D'Vorah
Kitana
C
Noob Saibot
Baraka
Jax
Raiden
Kollector
D
Frost
Nightwolf
Shang Tsung