Inspired by the likes of The Legend of Zelda, HopFrog, S.A.'s Forager has earned great success since its release. Now the creative minds behind this instant classic have decided to offer their passionate fanbase a "Free Appreciation Update" for everyone to enjoy. Check out the details on this new update down below.
What is the Forager Free Appreciation Update?
Taking to Steam, the creative team over at HopFrog, S.A. recently dropped in a note that explains the recent update.
"This free update is a thank you to all of you! It is an ambitious amount to add in only a month, but we wanted to show our gratitude to all of you for the incredible level of support you have all shown since our release. We hope you enjoy!" The company stated.
The Free Appreciation Update was released on June 7, adding in a series of new features. As the name suggests, the update is a completely free addition to the original game. You will only need to update your already purchased copy of the title to enjoy the new features.
What New Things Have Come With the Recent Update?
This update has provided a mass of new content for Forager players to enjoy. Check out all of the updates down below.
Single Island Challenge Mode – This mode forces the player to have to acquire every tool if they want to win.
Speedrun Mode – This mode forces the player to have to earn every feat within the game in order to win.
New Carpentry Station Building – This new station building comes with 10 new decorative items.
Weather System – This feature provides a more dynamic weather experience within the game.
Re-Balanced Bosses and Enemies – The maximum HP has been raised for enemies.
Auto-Sort Option – There is now a button that will allow you to auto-sort your inventory
Much More – To see every bug fix and new feature provided by this new update, check out steamdb.info.
Will There Be More Forager Updates in the Future?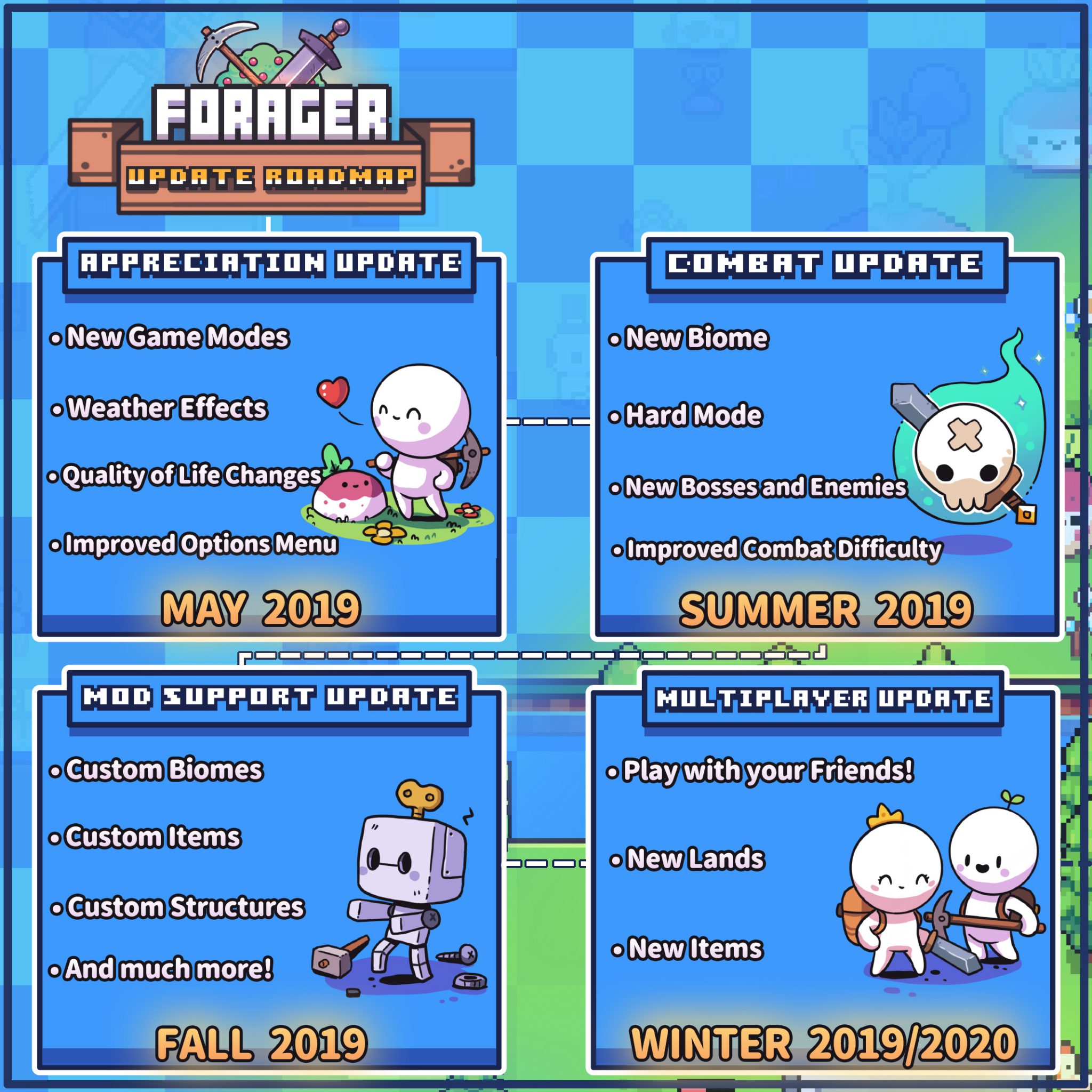 HopFrog, S.A. has already planned out their updates for the foreseeable future. So, yes, there will be more updates.
Dating back to May 2, 2019, HopFrog, S.A. issued their battle plan for the future of Forager. As stated within their Steam message, you can see what the company has in store within the list provided below.
Accessibility options are nice but we need to do more/better and secret options should be moved to the ingame config menus
Core gameplay is addictive but it ends too soon (~20 hours and then nothing to do anymore)
The game's pacing feels wrong (Automation and Droids can make things TOO easy, some Gear items are too cheap while others are too expensive, there is idle downtime way too often while you wait for things to craft or spawn, etc)
Combat is not challenging/rewarding
Some quality of life changes are needed (inventory sorting, better save backups, removal of sound stacking for Mining Rods, etc)
Our updates from now on will focus on increasing gameplay length and adding replayability!
For more information on Forager, check out Forager Guides Portal – Every Forager Story in One Place.