The "VMan" is the third class promotion for the Journeyman "secret class" in Legends of Idleon. It requires a Maestro at level 150 to get started, but you'll likely need to be into World 5 to really get the character unlock with any speed. It requires all of the first three worlds to have 1,000,000 kills registered along with some other steep requirements. Let's dig in.
VMan Unlocking Guide
You'll start by visiting world 4 at level 150 on a Maestro. You should only have one secret Journeyman class character per account ideally. So once your Maestro is level 150, you can begin the quest. Do note, the quest does require a lot of kills which means you may need to wait even longer before you can finish it.
Once you're level 150, on the right side across from the cooking table is Agent L150 who will start the quest.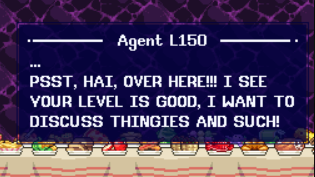 Step One: Get 1M death note kills on each monster in W1, W2 and W3 account wide.
Step Two: Defeat Chizoar on Chaotic Difficulty.
Step Three: Get 12 million green mushroom kills on your Maestro. This is character specific, not account specific.
The quest might not update after each step. For me the ? was greyed out even though I had done the step. You may need to visit the death note to get it to update as well once you've got 1M kills in the bag.
I highly warn against rushing this with candy. If you're still in W4, I'd wait until W5 when you can let your characters out of the lab to let them farm each of the locations all at once and save yourself time. You can also just passively farm everything up.
Note, you'll need to click the Voidwalker icon THEN click the select class button to get the class.
Quest Rewards
You'll get a nametag that any beginner can wear which gives you 30 luk and 10% multikill per tier (tier in the death note). That's an extremely powerful nametag. You must equip the nametag. It's going to be very important in the speedrun section.
Prepare also for the first run. We go into more details below but get ready to make the most of your first speedrun. It'll be on a long reset timer.
About the Voidwalker
Here's a quick rundown of how the class works. You get to run once a day the void trial rerun. Depending on how many points you put into it (all of them at the start that you can and use a book on it), you get x seconds to run the time trial. Based on how many portals you unlock, you get void talent points. These just give you talent points for the voidwalker. This is critical to level the voidwalker up fast.
The weird chess skill gives you the starting talent points, I had 117 so that was a pretty decent run. The speedrun is a bit tricky since you'll need to click the portals to keep advancing. There's no automatic portal entering, you'll have to click those yourself.
Once you finish your run, you can try again the next day with lots more talent points and a much longer run. I got about 300 talent points my first run.
Getting Maestro to 150 Fast
The thing about VMan is that you need a level 150 Maestro which can be a challenge. Not only is it on the weaker side when it comes to farming, but most Maestros have focused purely on skilling with only the adventuring being left for the handful of skill points a Maestro needed. The best is just to get to W5 as soon as you can; that's going to be the big boost in boosting your Maestro's ability to farm XP. While you may want the VMan in W4, it's more or less going to be the easiest to get at W5. Especially since you can use candy in W4 now.