RoleGenerator was launched in July 2021 oriented to helping dungeon masters and roleplaying game enthusiasts with generating a lot of the day to day minutia of their roleplaying campaigns. As of right now, they have 28 modules divided into two categories: Dungeons & Dragons and generic roleplaying generators. The latter refers to narrative content or content that isn't specific to any game system and ubiquitous across any type of roleplaying gaming.
There are modules focused purely on roleplaying, my favorite being the land and event generator which will take a terrain type and generate flavor text and events that randomly could occur which is great for fleshing out tile by tile what's there (or even in building rooms for a MUD). Their D&D module generates a shop with inventory, which is useful in building some much needed randomness between shops.
Many of the modules include in-depth looks what the generator generates along with while it matters and some other data to help with your roleplaying campaigns. For instance the travel simulator includes common distances between farmhouses, villages, cities, etc. and it includes some real world distances between major cities. Pretty convenient to have especially while loaded on an iPad.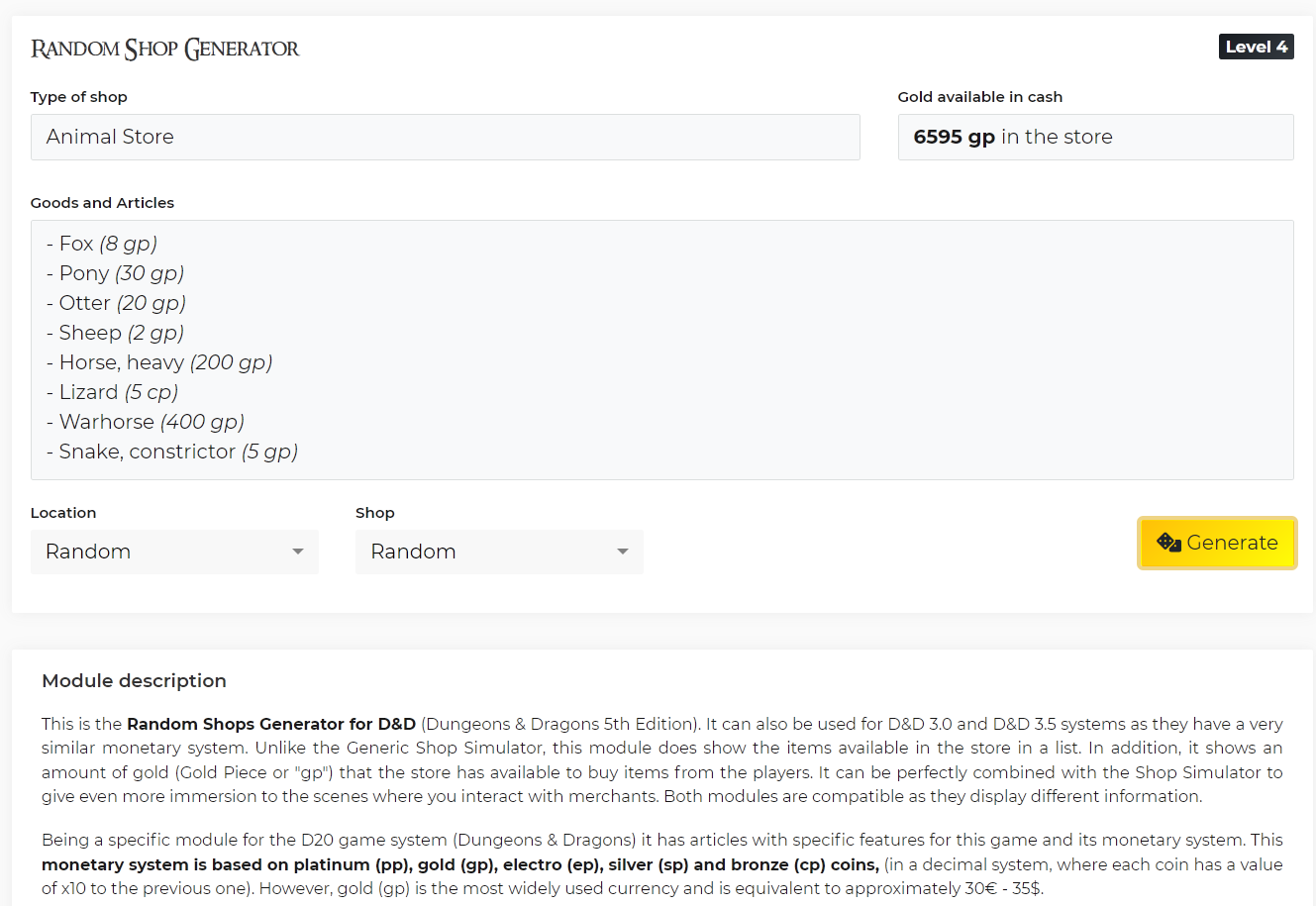 Currently the site is free, although there are optional Patron rewards. The platform boasts some powerful tools that let you improvise a dungeon quickly. You can generate a map, the background, the inhabitants and many other campaign details. Don't know what a food to serve in a tavern? Generate a menu and then set the ambient music.
The players have strayed from the main path and you urgently need to create a terrain zone? With a single click you'll have it which is really cool. You can register a profile and save your favorite modules and earn XP, which is always neat.
Create Your Own Custom Campaign
The coolest feature of them all and this is especially neat for new players in the RPG space is that you could literally run your own custom campaign using the site's tools. Here's how:
First, build out your backstory with the Land, 'Cities and Town', and the 'Random Shop Simulator' simulators. You'll find these and other story based tools under "places." If you have all your backstory down, skip this step, but note some of the tools can fill in in the extra bits like what's going on at a Tavern and what does it stock, etc.
Go to Maps of Urban Centers and/or Continents and Islands Maps to generate some maps and then photoshop or irl draw on the paper the major locations for your story.
Go to Tools and find Random Dungeon Map maker. Use this to build out your dungeon map.
The character generator can help flesh out backstories for NPCs.
You can pretty much run your own campaign now. You can use the Role Dice Calculator & Initiative Tracker to run standard campaigns and the various other tools to help spice up your roleplay with some randomly generated ideas. You can also use the Simulator Tab to make up your own rules for gameplay and use these tools to simulate large scale battles, travel times, arena combat, etc.
Pros
One stop shop for all kinds of neat RPG tools.
Mobile friendly making it easy to take to a tabletop session.
Great RPG research tool.
Cons
Fantasy only, although there may be more possible genres in the future. You can swap out the generated names for things and use the more meatier parts.
Limited D&D Modules.
Site UI takes a minute to get used to.
All in all I'm excited to see RoleGenerator grow. Right now it's a great tool to have in your tool kit when running a campaign and putting together custom campaigns and hopefully will continue to grow over time. Check them out at https://www.rolegenerator.com/.