There's a lot of mediocre headphones on the market but if you don't read anything else in this article, then I hope you takeaway that the Audeze Mobius Headphones are a true gem in the rough. We've had multiple staff at Gaming Tier List give these a go for an upcoming gaming hardware tier lists series we're planning and we have to say that these are front runners for S Tier but we're definitely going to break down our opinions and we're only going to focus on real world use cases – there isn't any technical specs out there that will convince our ears that they're great.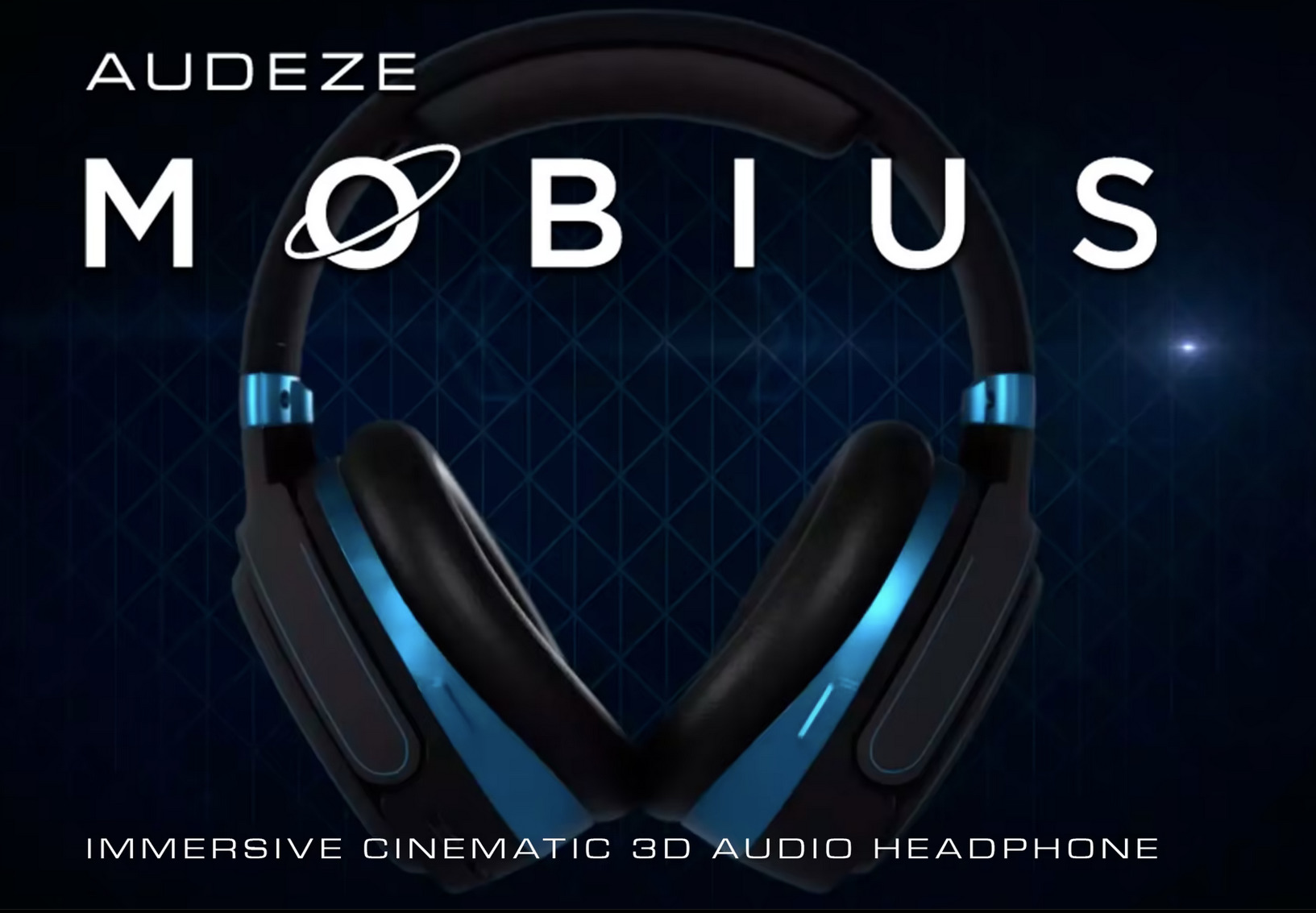 We've got a lot to cover but let me give you the highlights on what we love and what we don't first and if you want to learn more of how we came to those conclusions, you can read further below.
What We Love
These headphones sound absolutely great and their price point is insane for the technology inside of them. Not only are you getting planar magnetic drivers (the best for headphones) at $399 (which is insane) but you're also getting a wide variety of game changing technology including 5.1/7.1 surround with head tracking and room emulation. The immersive experience this creates can really help fine tune noise direction in FPS games.
The sound quality is just 10/10 and the ability to know where someone is moving in a game is just wild. It's noticeable even for something like Gears of War 5 where it's not the most important thing in a campaign single player game. The sound is specific and radiates over your ears like beautiful sirens calling you to play more and stay up later.
Again, when it comes to "gaming headsets" there just isn't a comparison to the quality of sound. These are headsets with gaming features and sound meant to go in a recording studio. It's the best set of cans we've had on our heads with the word "gaming" anywhere on the box.
Flexibility is nice too, you can use them for Call of Duty on your PC and you can use them for CoD on your mobile as well. That's extremely nice to be able to move from device to device with ease. They can work as your always plugged in PC headphones or your headphones on the go as well. So you can take the amazing sound quality anywhere you want to go.
What We Don't Love
Audeze is a world class audiophile headphone manufacturer; they're not Shure. The microphone is absolutely fantastic for what is designed for: Discord calls (it is Discord certified). It has clear reception; no pops and it sounds great. It's removable, so the headphones can be used without the boom mic and comes again with a nice foam filter on it with some room to adjust.
The software isn't the best but no one has the best software to be fair. It works though, no crashes and it's not required to always be on forever.
The included cables are just bad. They're not long enough for the headphones and just not comfortable to use. I'd highly recommend to recable them (they take a 3.5mm or USB-C cable). While they are wireless, you'll want to use the USB connection to setup the software and just charge and listen sometimes.
Testing Methodology
Transparency is part of our manifesto and to that extent we want to lay some ground rules on this review. The first is that we're not testing with any sort of mechanical or digital apparatuses. The only testing done is with our own ears, which come with subjective bias. That's why we've passed the headphones around to multiple staff members to get their specific takes. In each section we'll provide additional context on their opinions.
Hardware & Construction
These things are lightweight but hefty and quite solid. They're built well, with premium materials (a word to mean they don't feel cheap in your hands, I don't know the specific materials they use). We each tried to aggressively bend or break the headphones, snatch the cables out of the socket, bend a cable out of the socket and throw them across the room – all at medium real world example rates, nothing crazy. They've held up well not only to that, but shipping between staff which I mean that's an achievement these days.
The earcups are massive cushy and the "clamp" on your head is really tight and comfortable. There's some foam padding at the top and the cups swivel to lay flat on a desk or pack away well.
Wireless Performance
The headphone works in wired and/or wireless mode. This is a nifty feature as you can pair your phone to the headset via Bluetooth and then connect the headset to your PC via USB. When you get a call, your PC audio will lower while you switch over to Bluetooth.
The battery is advertised at about 10 hours of length. We never ran out of battery in testing, running most gaming sessions at a reasonable 3-4 hours long each. The headphone seems to charge within about an hour of plugging it in after moderate use.
They pair well with phones and PCs alike. When we shipped them between staff members, we had no problems setting 'em up at a new location.
Audio Performance
We've got a few different opinions here from our staff. They all agreed the headphones sounded fantastic. We'll break down the 3D tracking / surround component in further detail later:
Staffer Review 1
My current set of headphones are Razer Krakens I picked up at Best Buy. I got them because I asked what's the best they had in stock and that's what I was pointed to. There isn't really a comparison in sound quality between the Razer Krakens and the Audeze Mobius. The Krakens sound like any other pair of headphones or earbuds. They just… sound normal. The Audeze Mobius sounded like a cinema experience at home.
I was addicted to watching Netflix with them on and talking on Discord or the phone while sitting at my PC. They were great for just everything I tried them on.
Staffer Review 2
I use a pair of SteelSeries Arctic Pros with the DAC. The microphone on the Audeze Mobius wasn't anywhere near as good as what the SteelSeries microphone could do but I use an external mic so just ripping the thing out worked for me.
The sound quality was much better than the SteelSeries for me. I play a lot of FPS games and being able to pinpoint in real surround sound (not emulated) was a game changer for me. Battlefield 2042 was a lot better with the Mobius because the 7.1 audio sound was much better than the simulated 3d in the settings. I could tell someone was coming from behind or someone was shooting left or right much easier, as if it was there.
The head tracking was a big component.
Staffer Review 3
I actually use my own DAC (a FiiO) with some old Bang and Olufsen Beoplay H9s I've recabeled which sound fantastic but here's the deal. A. They were more money. B. They weren't Planar magnetic. C. I have to have the DAC to drive them. D. These weren't as loud without running them through the DAC which I would suggest any audiophile to consider (you do lose some features but the sound is just really great) but you also don't have to do anything and can plug them into the usb port and be done which is super nice.
3D Tracking & Surround
Over all this feature wasn't a gimmick to our staff here at Gaming Tier List. Everyone in the standup calls were hesitant about it. We're all talking about the different headphones we own and the ones we can actually get and try to make the best upcoming tier list and we're talking about the 3D head tracking and surround and yeah, everyone pretty much wasn't sold.
Once we got the headphones that opinion changed. It's interesting the different ways our staffers saw the value in it, but let's let them tell you.
Staffer Review 1
Honestly the 3D effect didn't really do much for me in games. It was just interesting but didn't really do much for immersion. It was really neat when watching movies on my PC because it made the sound feel like it was coming from a soundbar if I were to move around or look away from my PC. Made it feel like I wasn't wearing any headphones at all.
Staffer Review 2
The 3D tracking is really great in VR if you make sure to reset the positioning right (single click the 3D button) for games that don't natively reposition the audio. Otherwise, it's super useful in FPS games because even if you turn your head a little bit it can really throw off where the sound is coming from and this helps compensate for that. If you're really into using your ears to play it's a godsend.
Staffer Review 3
It's neat. I don't really mind it and I don't really hate it. It's quite well implemented and doesn't seem to hurt to have it on. Every little bit helps. It is interesting that you do notice it when you switch to a different pair of headphones after using them for awhile.
Our Score
At Gaming Tier List (formally GameTruth) we do not give games, hardware or peripherals scores because a 5/10 would on a bell curve be where most games are, deviations from there would be outliers yet we see scores of 8 or 9 being considered the minimum for something "good."
So, in that spirit we'd like to discuss do these headphones, at their price point, with their feature set and the testing we've done put them in a competitive spot in the market and we absolutely would say yes. We'd arguably say they belong probably among the leaders in the $400 headphone space, simply for the fact you're getting extremely high-end build quality, technology, features and more along with a microphone.
Yet, the microphone is its biggest crutch. It's very airy and while clear, not the most satisfying microphone out there. Way better than something on a low-end headset, but if you're wanting to do more than Discord you'll want a professional mic anyway.
The best thing about these headphones is they're from a reputable brand, built very well with great quality control and you know you're getting something nice and not just something rebranded off aliexpress, including their own custom software to control the headphones.
Notable Features
5.1 and 7.1 native sound over USB
Head tracking audio
Planar magnetic drivers (at $400 or less)
Discord certified
10+ Hours of Battery
Hardware audio processing
Bluetooth + USB / Audio Jack (can use both at the same time)
Travel bag!
Conclusions
When it comes to a pair of audiophile grade headphones for your PC at what would be arguably the lowest price point you're going to find for the most features, then there is no going wrong with the Audeze Mobius.
Tips from Our Staff
Here's some tips if you own a pair and were trying to figure something out that we recorded while testing:
They're Atmos compatible but not technically Atmos certified. Atmos for Windows works great with the headphones when they're in plain stereo mode – however, this isn't as good as the native 7.1 channel mode.
Buy a new cord for sure.
Download the software for the headphone to setup the tracking.
Read the manual on how to reset the head tracking if you move say to your couch or just if it ever gets off center.
Look at the Penrose if you're wanting the high quality sound designed for the Playstation.
Disclaimer
In writing this article, Gaming Tier List received a free review copy. GTL may earn a commission on links within this article.