In a world full of supply constraints, a specific electronics retailer has turned to an old school marketing practice to woo in new customers. Car dealerships used to offer free home gadgets in exchange for a test drive. Banks, if you opened a new account, would give you a toaster or other home gadget as well. It seems this trend is coming back in style.
Micro Center is currently running a promotion where you can receive a free 240GB Inland SSD if you're a new customer and willing to give them your email address and phone number (and if you don't want them having it, willing to give it to them then unsubscribe after you snag your deal). While not specifically a toaster, it is an absolute total freebie if you just signup for their marketing messages.
There's a catch though…
The Catch to the Micro Center 225GB Free SSD
You… can… not… being serious here… order it online and have it shipped to you. You MUST go to a physical Micro Center location and go inside and then snag it. That's the literal *only* catch.
Like, you don't have to buy anything else. You don't have to pay shipping and as far as I know, you don't have to pay tax. You have to literally… ask for the specific Inland SSD (pictured below) or have it reserved for you for pickup, give them your code from signing up on the above linked page and walk out with your new SSD.
The Specific SSD Itself
Here's a link over to Micro Center to check out the SSD yourself (and if there's a Micro Center near you with stock).
It's nothing to write home about and, for the most part, won't be worth the space in most gaming builds. That's not to say there isn't an Optiplex laying around you might want to upgrade with a new SSD. Your case may have lots of slots and this is great speedy game storage. Nothing again to write home about, but it's a free $50 value (well $30 on sale right now).
Don't get a replacement plan on this baby though, if they somehow offer it to you. Just take the loss in the event it fails in a few years. The warranty will usually cover you for a new one and the fine folks at Micro Center will likely comp you a fresh one if it breaks anytime soon.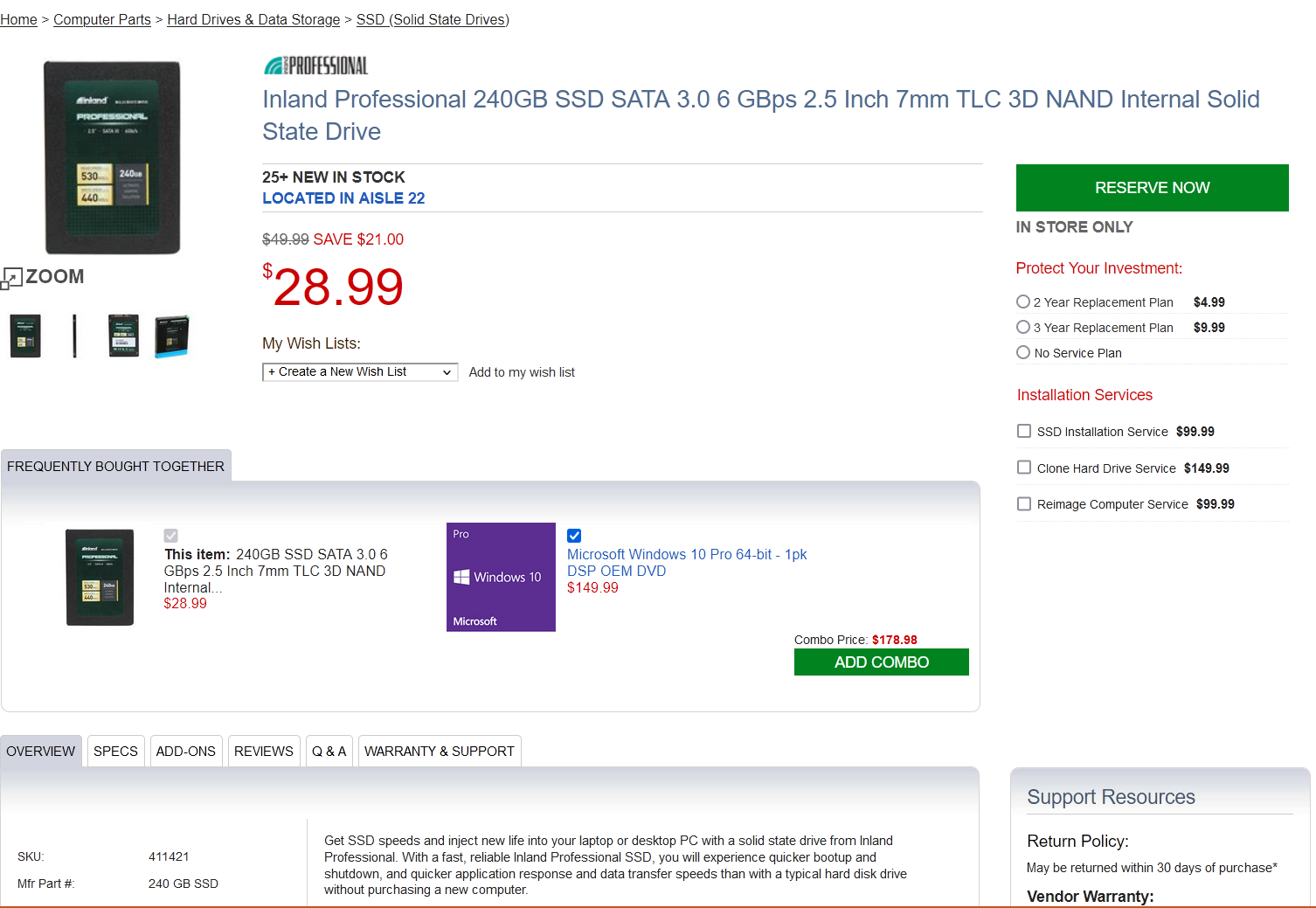 Free Raspberry Pi W and Other Freebies
Micro Center is running targeted ads at folks that includes a Pi W (which isn't that great of a special) and some other freebies which were mentioned on Reddit.
That thread also notes that they're checking for IDs on customers who use this coupon. So it might be a good idea to bring your ID with you when you go to the store. I would always do that when shopping at an electronics store, they usually will want to see ID for large purchases and online pickup.
Micro Center also usually runs deals on free USB chargers and SD cards as well. So always check before you buy. You can find more tips on saving cash on games in our saving cash on games guide.